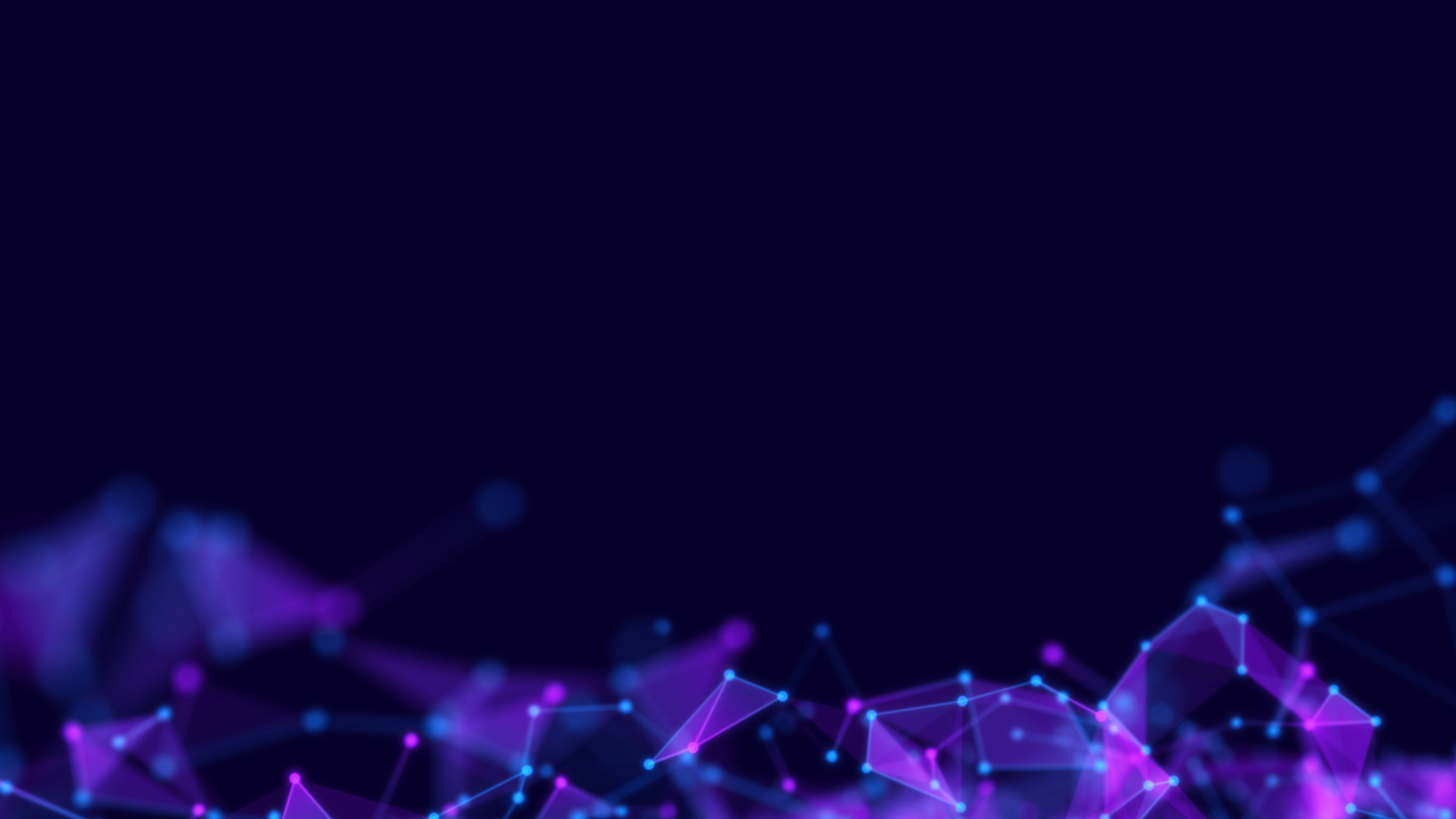 MediViewer — EDMS functionality explored
Exactly what functionality can you expect from a next-generation EDMS, purposefully designed for the NHS?
From MediViewer's core technology, to every new feature we introduce, the mission of our software development team is clear — to revolutionise the clinician : patient experience.
Our ever-evolving product roadmap is unswervingly focused on this too. With MediViewer, you won't find any 'nice to have' elements that are rarely touched. Everything is researched, architected, tested, and rolled out, with our core sense of purpose in mind — to accelerate user adoption rates, streamline how medical records are securely captured, stored and retrieved, and support the digital transformation of the NHS for the benefit of all concerned. But the entire solution is configurable, to meet the exact needs of your Trust.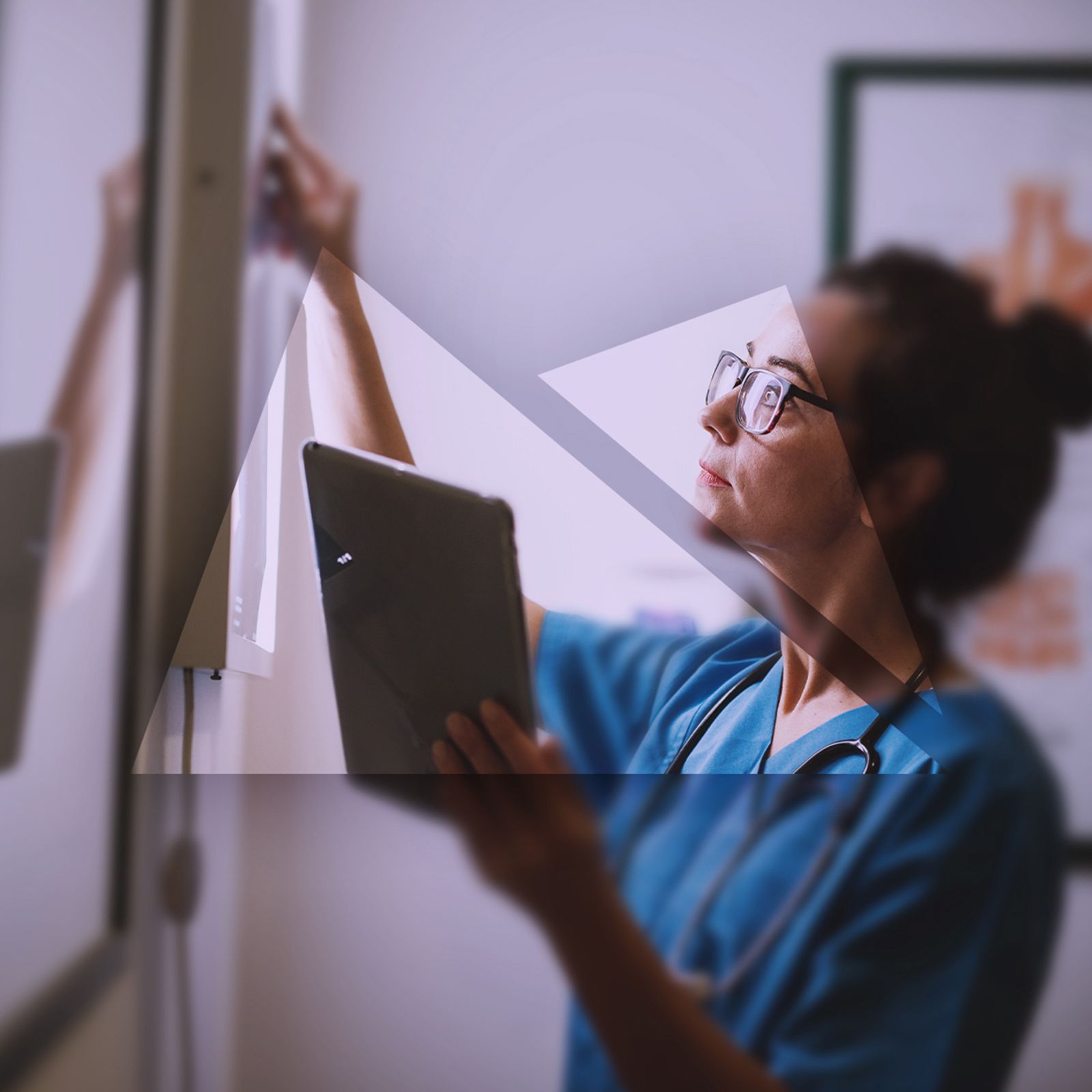 MediViewer.
For the connected
record.
MediViewer features
Designed to be the ultimate digital library for NHS Trusts, there's actually far more to MediViewer than it simply being a document repository. We've developed a number of integrated features — and our future product roadmap centres on achieving a fully-integrated case systems direction. Our market focus is the NHS, and only the NHS, ensuring this EDMS remains relevant and value-adding, however hospitals' digitisation journeys evolve.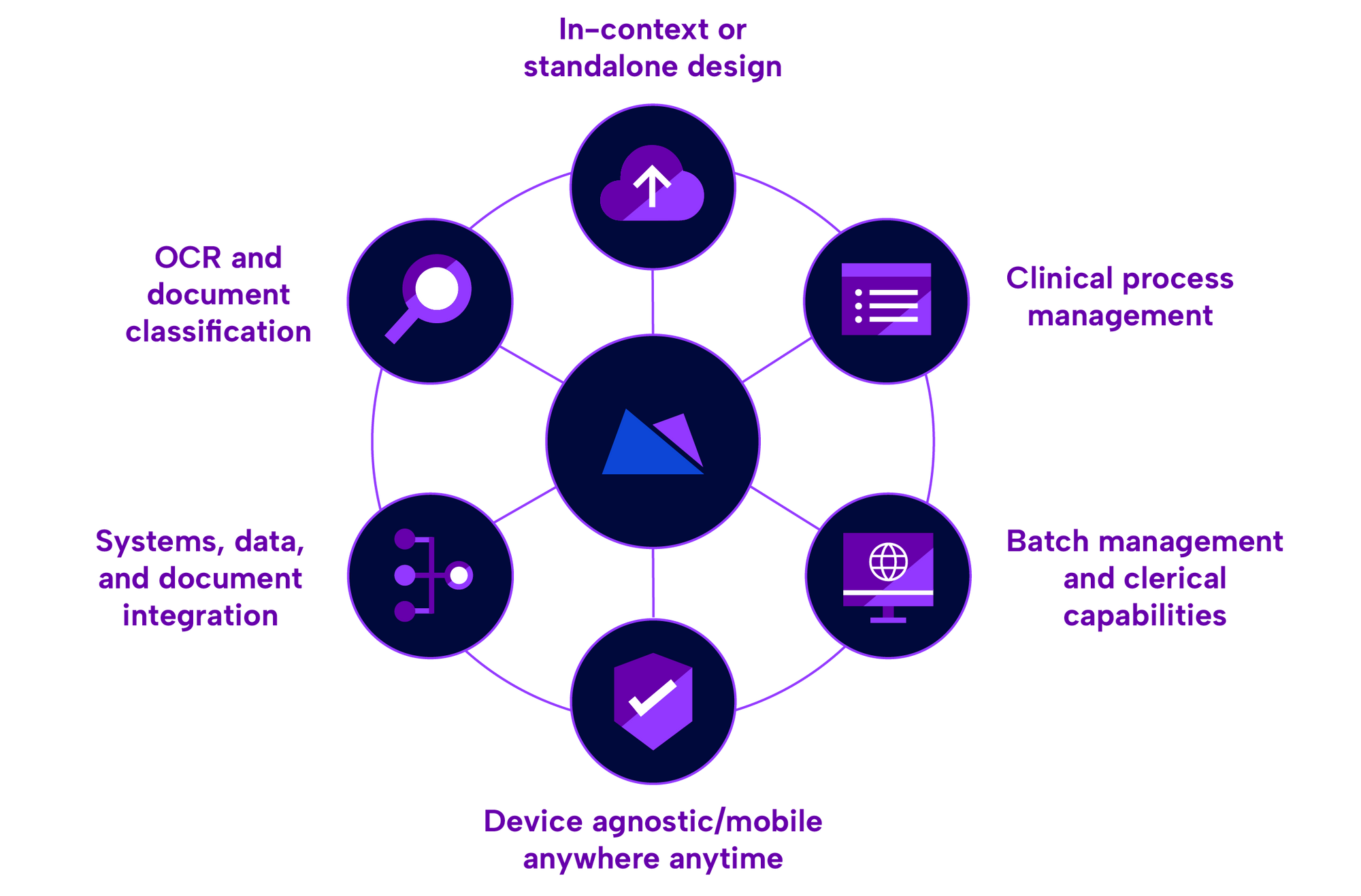 Building your EDMS
In the simplest of terms, MediViewer is a powerful digital library for your electronic medical records, and regardless of the intricacy of your EDMS, it will remain infrastructure light, yet performance rich.
With its intuitive HTML5 front-end, it can exist as a standalone document repository for your Trust, or a fully-integrated solution — enhanced with additional features — which supports even the most complex integrated care strategies. Whatever your requirements, we'll configure an electronic document management system, for you.
MediViewer features currently include:
HL7 Spine & FhIR messaging
Providing Trusts with full access to their past, upcoming and future patient lists, this feature — with clinic portal — utilises HL7 and FHIR messaging to provide healthcare professionals with the clinic, ward, and patient-specific information they need, exactly when they need it.
Filter encounters to display need-to-know information, with direct record access, anywhere, from any device, without having to log into any other native system.

Search and manage patients based upon upcoming encounters, with bookmark entry points to simplify future navigation.
Establish single-click 'favourite' access to patients, with ISBN compliant key demographic information, alerts, allergies, GP details or any other information as configured by the hospital.

Access information from closed wards from the PAS.
Create episodic patient journey views, including recent attendance and documents.

Enable ADT (Admit-Discharge-Transfer) messages for wider, date-specific patient context.
Fully FHIR enabled to support complete, cross-system messaging and interoperability.
OCR and SmartIndex document classification
With the average medical record containing 400 images once scanned, MediViewer powers rapid and intelligent ongoing access to the information users need, at the point of care. Why? Because we believe savvy electronic document classification for the NHS, demands much more than barcodes, folder tabs, and Optical Character Recognition (OCR) alone.
Utilise heuristic algorithms — akin to machine learning — to understand various document types, removing the need for large-scale indexing costs at the point of scanning.
Apply classification best-practice at the point of scanning, so that specific documents can be searched upon and retrieved from vast electronic medical records, with ease, according to document type, specialty, site and location.
Achieve in-context structure to medical records, with our SmartIndex technology. Automatically recognise clinicially significant documents — even if they have not been barcoded — for ultimate ease of navigation.
Maintain a user-friendly library as records continue to grow, by applying the same classification strategy for day-forward scanning and information harvested from other clinical applications.
Save searches and filters for future use, or adjust pre-configured taxonomies as your Trust's needs evolve — your document classification strategy grows with you.
Deploy technology designed and developed by ex-NHS staff with learned experience of implementing EDMS technology and addressing the challenge of future document reclassification.
Reprocess and reclassify previously scanned patient records when migrated to MediViewer, if required.
API engine and data integration
Create a single version of truth for patient information, by integrating MediViewer directly with other third-party clinical systems core to your electronic medical record infrastructure. Our API engine — with powerful data migration capabilities — is critical to that digital transformation journey.
Proven integrations with more than 30 different clinical applications and document feeds to support a holistic view of the patient record, with a rich upcoming roadmap too.
Create complete electronic medical records for your patients, by harvesting information captured from almost any clinical application, remote scanner, multi-functional device, or file share.
Retrieve all imagery, documents and associated patient metadata — from lab results to nursing notes — for the ultimate connected record.
When enriched with HL7 and ADT data, everything aligns to the patient's episodic journey, for the best possible experience throughout their care lifecycle.
However deep the clinician's journey goes, MediViewer's interoperability ensures they remain in patient context at all times, for maximum speed and ease of use.
Because MediViewer exists to support Trusts' transition to paperless, this feature provides departments outside of the clinical core with the same breadth of EDMS functionality to digitise their own documentation, while ensuring sensitive patient records remain entirely separate.
Non-clinical staff benefit from the same feature-rich management of scanned imagery, via our departmental licencing function.
Such licensing can be used for HR, payroll, finance, legal and other corporate Trust information.
Space currently used to store physical records is freed up for wider hospital use — maximising the cost and real estate savings associated with a MediViewer deployment.
Wider document retention and security policies are upheld and managed with ease, via this single EDMS.
Mental health, social care, and GUM clinic records — which are not to be combined with main acute clinical records — can also be managed in this way.
The enormity of digitising patients' paper-based records, cannot be underestimated. This feature — plus Mizaic's wrap-around support — is purposefully designed to support this potentially complex process, for a BS10008-compliant scanning strategy.
Establish — and visualise — standard operating procedures for back and day-forward scanning, in the heart of MediViewer.
Provide non-clinical users with the scanning tools and guidance they require.
Securely manage batch creation, consignments and status updates, right through to document ingestion.
Track the complete journey of a medical record, with end-to-end oversight of all patient documentation. No other EDMS offers this level of auditability.
Achieve ultimate peace of mind when it comes to scanned imagery, OCR, document classification, and data integration — every element of the digitisation process.
Clinical process management
Because we truly care about joining the dots with NHS Trusts, our EMDS — MediViewer — is actually capable of fostering an enterprise clinical process management environment. Again utilising the power of our system integration functionality, our customers can enable the effective and secure delivery of electronic forms and workflow technology, within their clinical setting, for added end-user benefits.
E-forms
Quickly create forms with an intuitive 'drag and drop' design interface for speed, plus bespoke capabilities if required.

Share, adapt and reuse forms across your Trust, for future efficiencies, process standardisation, and a consistent user experience.
Apply role-based controls to govern future editability and access permissions.

Utilise built-in logic and rules-based functionality to show or hide certain fields or pages, auto-assign data and make even the most complex of forms easier to understand.
Integrate forms with automated, multi-user workflows, ensuring the right person actions the right task at the right time, whether simply approving a document or managing a complex cross-pathway process.
Embed photos, files and other documents, as required.
Enter data into forms even when offline, for true 'work from anywhere' usability which automatically syncs when you're reconnected.
Workflows
Create workflows with any combination of user or system steps, task assignments, business rules, exceptions, escalations, SLAs and more.
Utilise our visual tooling canvas — with 'drag and drop' design functionality — to accelerate the development of workflows, and minimise the risk of error.
Configure your workflows with the help of prompted suggestions from our Smart Assist feature — learned from previous steps.
Drive better cross-team collaboration with visualised, easy to understand processes that users can contribute to, regardless of their technical literacy.
Gain greater workflow visibility — in one place — for point-in-time status updates and the ability to set alerts, notifications and reminders, for timely task completion.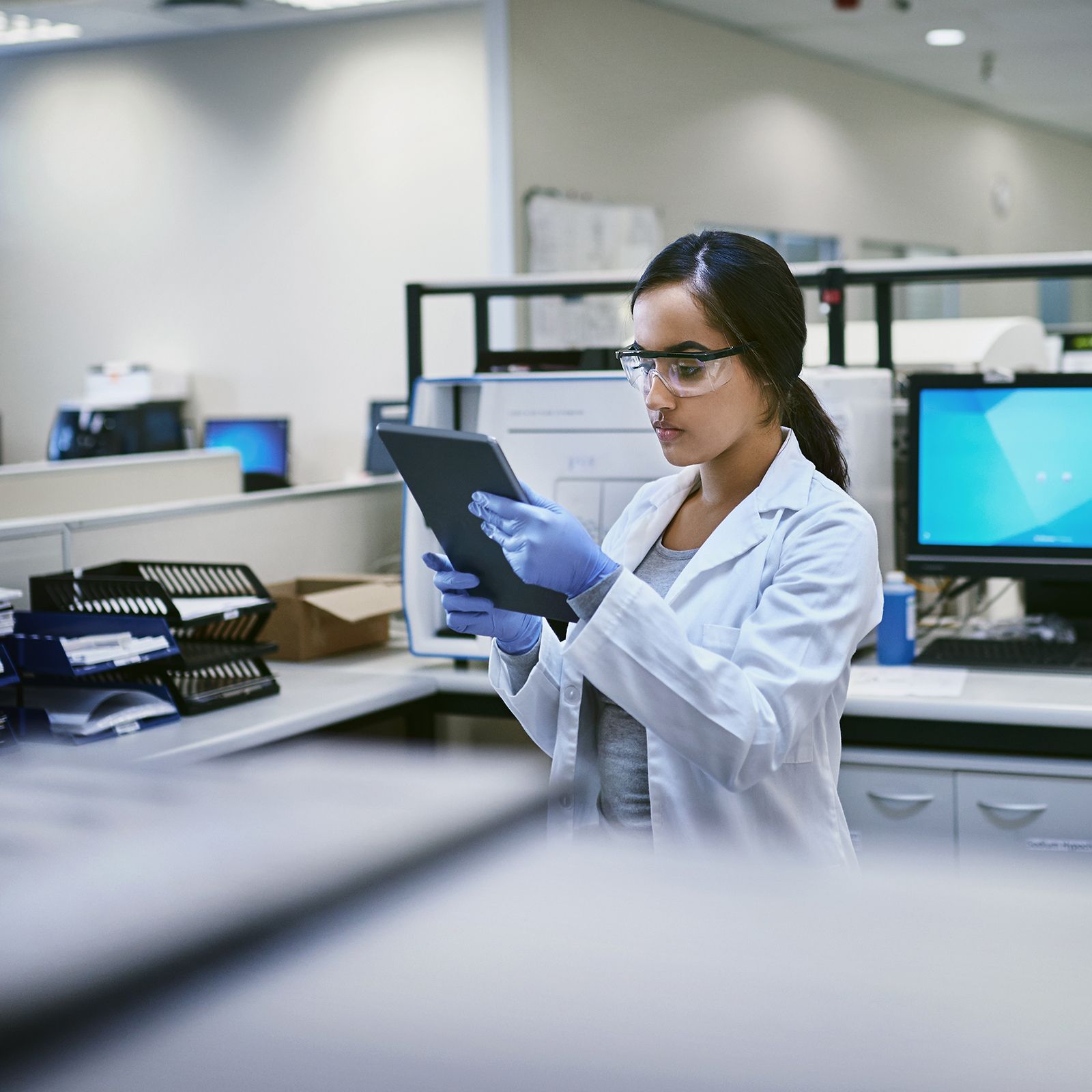 Building your business case
With no third party software licences required, MediViewer delivers a lower total cost of ownership and tangible cash-releasing operational benefits from reduced record library overheads. There's a strong underlying economic case for this EDMS.
But at Mizaic, we go one step further, helping you crunch all the numbers relevant to your Trust from your scanning strategy to the resources needed throughout the implementation.
How we work with you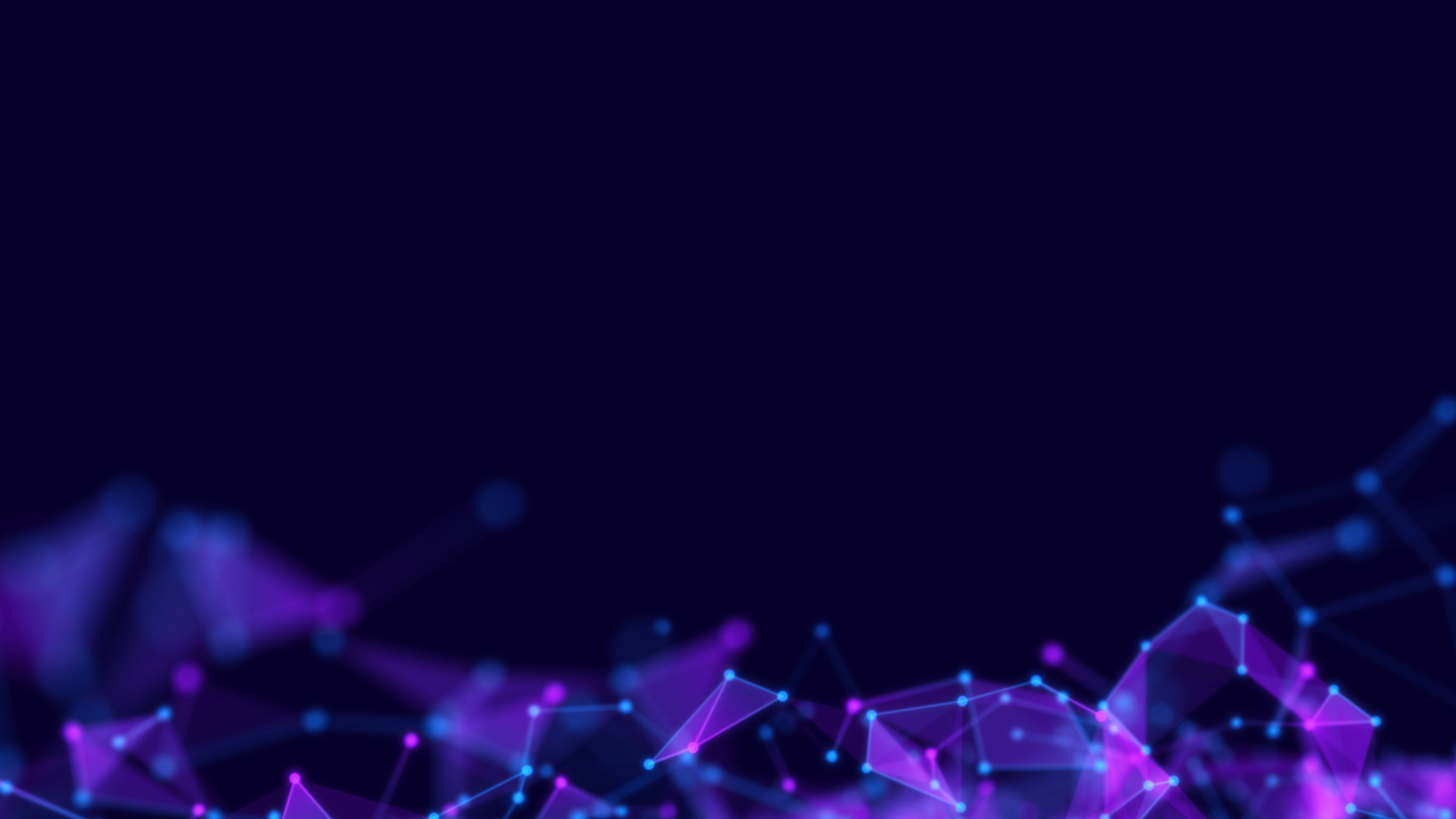 Did you know..?
No other EDMS solution is able to track the complete journey of a medical record. MediViewer can. With our Batch Manager functionality — which facilitates back and forward scanning — our customers have end-to-end oversight of all patient documentation.
For the connected record. For the auditable record.